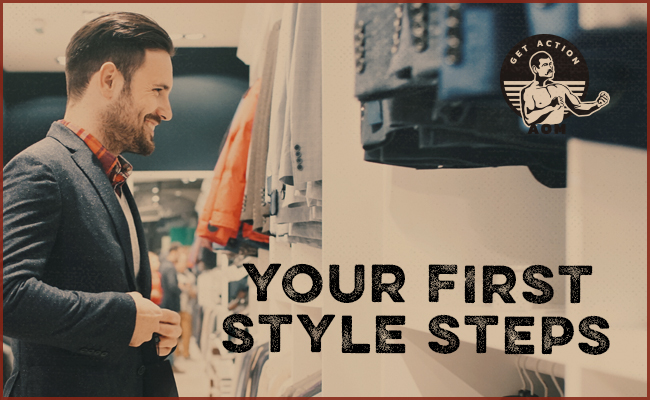 With our archives now 3,500+ articles deep, we've decided to republish a classic piece each Sunday to help our newer readers discover some of the best, evergreen gems from the past. This article was originally published in October 2019.
A lot of guys would like to improve their personal style, but they feel a little overwhelmed as to how to start. Men's sartorial blogs and magazines often showcase photo spreads of male models wearing expensive, fashion-forward clothes that seem inaccessible and/or undesirable, and don't point that helpfully towards a way forward.
Fortunately, taking your first steps towards upping your style game doesn't have to be intimidating or involve making dramatic changes to how you dress. Instead, it requires only modest purchases that anyone can make with a minimum of effort and some very basic knowledge. Together, these wardrobe additions will significantly upgrade your look from the basics of jeans, t-shirts, and tennis shoes, all without breaking the bank, or making you break much of a sweat.
Think of the following items as the starter set for any well-dressed man:
1. A Couple of Plain White Dress Shirts
They may look like serious business pieces on the rack, but plain white dress shirts can go with pretty much any outfit.
You can wear them with slacks and a tie, or a suit if you have one, but you can also throw them on with blue jeans and a pair of beat-up work boots.
You want a couple of these because they're never going to be wrong. While you figure out the rest of your style, basic white shirts hold the fort.
Point collars are a little nicer than button-downs, but the casual look of the latter will probably best fit your day-to-day style. Get 'em for $20 or so at any department store, or keep an eye out for sales online. Secondhand is fine too, so long as the pits aren't yellowed or you're confident in your stain-removing abilities.
Most importantly, make sure your dress shirts fit really well, checking out this full guide to how they should look and taking them to a tailor to get them altered.
2. A Casual Sports Jacket
It might not seem like a high priority if you've never been a jacket-wearing kind of guy, but don't underestimate the value of a sports jacket.
This doesn't have to be anything fancy, or even new. Secondhand is just fine — if anything, a little wear and tear around the edges adds authenticity. Look for sales or thrifted pieces and you can expect to spend anywhere between $10-$100.
Try for something simple and casual when you're just getting started. Gray tweed or a brown tone of some kind should work well, in textures or patterns if you like that sort of thing.
Experiment with throwing the jacket on over a simple dress shirt and jeans when you go out to dinner or to a party. It'll be a painless upgrade to your usual look — and one that's not so dressy that it'll rock the boat.
3. Nice Jeans
Upgrading your style a little doesn't mean saying goodbye to blue jeans forever. In fact they're a staple (or at least should be) in every man's wardrobe.
So rather than ditching them, you're going to improve the quality of your jeans. Skip the offerings from places like Target or Macy's and head to a store that specializes in denim instead — a Levi's or a Lee's outlet works great. You can also shop online, where you'll have your pick of everything from the major brands to small batch raw and selvedge denim jeans. Expect to spend a little bit here if you're buying new — $60 is a good price, and it can go higher for specialty brands.
Find a pair you like and opt for a fairly close fit in dark indigo. These are your new "dress jeans," for any occasion when you want to look comfortable and relaxed but still like someone who cares about his appearance.
The fit is important here. The denim doesn't have to be skin-tight, but it shouldn't have too much excess either. You want a little taper to the legs, and an overall more "tailored" look than the jeans you'd wear to work in the yard.
4. Casual Leather Shoes
A pair of decent shoes changes the entire outfit they're worn with.
Swap tennies for leather footwear and you've suddenly got a much more respectable look.
You
Comments
0 comments