U2 members Bono and The Edge, at the request of Ukraine's President Volodymyr Zelenskyy, surprised citizens of Kyiv with a concert in a subway station on Sunday.
The duo performed hits 'With or Without You' and 'Angel of Harlem' as well as a cover of Ben E. King's 'Stand by Me,' though the lyrics were changed to "Stand by Ukraine." Watch above.
"President Zelenskyy invited us to perform in Kyiv as a show of solidarity with the Ukrainian people and so that's what we've come to do," Bono and The Edge wrote on Twitter from the official U2 account, alongside the hashtag #StandWithUkraine.
READ MORE: New Tricks star Dennis Waterman dies at 74 with his wife by his side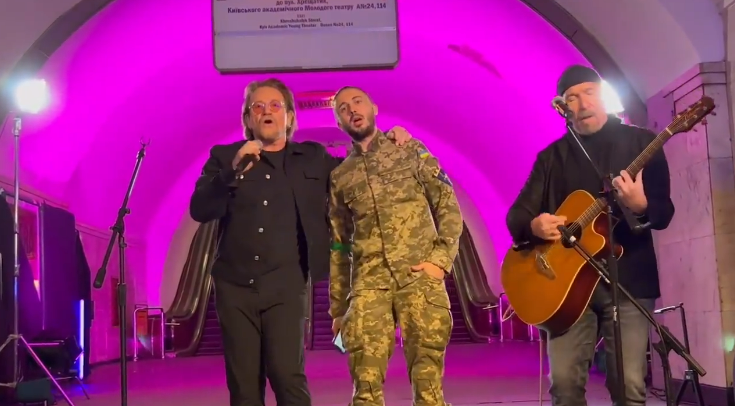 Bono and The Edge, who played the acoustic guitar for the performance, held the concert on a subway platform in Ukraine's capital city, in a station that has since morphed into a bomb shelter for residents to use to hide from Russian strikes.
READ MORE: Aussie model Shanina Shaik reveals she's pregnant
Ukrainian band Antytila – whose member, Taras Topolia, joined the military to fight the Russian invaders and sang in his military uniform – accompanied Bono and The Edge for part of the performance.
Antytila has previously collaborated with Ed Sheeran to raise money for the war effort in Ukraine.
https://twitter.com/U2/status/1523264383065141250
Bono and The Edge's performance comes after Zelenskyy addressed Hollywood and the world at the Grammy Awards in April, urging musicians and artists to use their platforms and skills to "tell the truth about" the war in Ukraine.
"Fill the silence with your music!" Zelenskyy said in a special address via video at the time. "Fill it today to tell our story. Tell the truth about this war on your social networks, on TV. Support us in any way you can. Any – but not silence. And then peace will come.
READ MORE: New Doctor Who star revealed
"Our musicians wear body armour instead of tuxedos," Zelenskyy told the audience and viewers. "They sing to the wounded in hospitals. Even to those who can't hear them. But the music will break through anyway."
https://www.instagram.com/p/CdTqi1yIq3w/
On Mother's Day, United States first lady Jill Biden met with Ukrainian first lady Olena Zelenska in Uzhhorod, a small city in the far southwest of the country.
Canadian Prime Minister Justin Trudeau also raised his country's flag at its embassy in Kyiv over the weekend.
Russian attacks on Ukraine are expected to worsen as May 9's Victory Day approaches, with an annual military parade in Moscow celebrating the 1945 surrender of Nazi Germany expected to take place.
For a daily dose of 9Honey, subscribe to our newsletter here.
————————————
Title: U2's Bono and The Edge perform a surprise concert at Kyiv subway station in 'solidarity' with Ukraine
Sourced From: celebrity.nine.com.au/music/u2-bono-the-edge-surprise-kyiv-ukraine-subway-station-concert/e0f827b4-8ee1-497a-9af7-01cb2b3872ac
Published Date: Sun, 08 May 2022 21:05:00 GMT
Read More
Did you miss our previous article…
https://www.mansbrand.com/sam-hunt-and-hannah-lee-fowler-call-off-divorce-nearly-three-months-after-filing/
Comments
0 comments