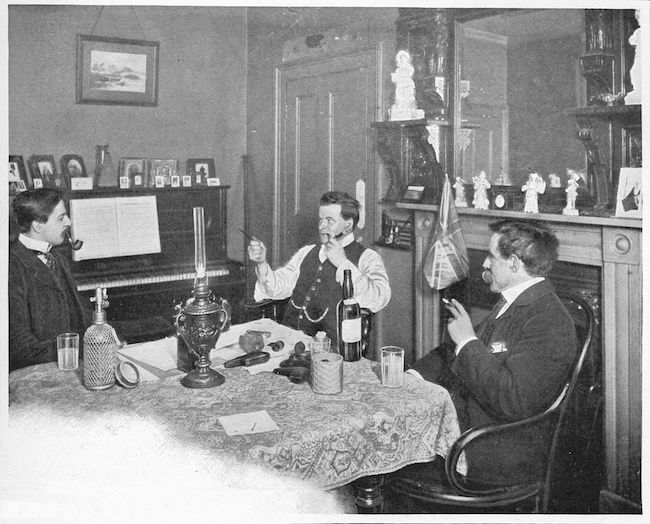 Much has been made of the increasing number of Americans living alone (in 1960, single-person households constituted 13% of all households; today, they represent 28% of them). But such a period is not without historical precedent. While 51% of men ages 18-29 are single today, in 1890, 67% of men in roughly the same age bracket were. In the late 19th century, socio-economic forces led men to postpone marriage, and an entire bachelor sub-culture developed; in cities, bachelors often congregated together in "Bachelor Districts," formed clubs, and hung out in billiard halls, saloons, and barbershops. The period between the Civil War and World War I ultimately spurred new industries, shaped America's conception of masculinity in the 20th century, and became known as "The Golden Age of the American Bachelor."
Most bachelors of this period lived with their families, but many lived on their own in boarding houses and apartments. In 1906, A. Lyman Phillips wrote A Bachelor's Cupboard: Containing Crumbs Culled from the Cupboards of the Great Unwedded, a book that sought to help these stags set up an independent, and flourishing, life. The book contains chapters on how to live on a budget, furnish one's quarters, stock a kitchen (tabasco sauce was considered "indispensable"), cook a variety of dishes (both while staying at home and camping in the wilds), mix drinks, dress appropriately, do housekeeping, entertain guests, and generally be a skilled host and suave, competent gent. Lyman paints bachelorhood not as some default state in which a man bides time before marriage, or as an excuse to resort to lowest-common-denominator living, but as a role to be celebrated and improved upon. He offers an ideal of the bachelor as a man who betters his own life, and in turn betters the lives of others. 
A single male of the present age might not be nostalgic for a time in which you had to have a chaperone present when entertaining a lady friend, but he might look back wistfully on a period when bachelors were often invited to eat at other people's homes three or four times a week and could be "persistently certain that he is welcome everywhere, and that when he lunches or dines at a house he confers a favor." Perhaps if the modern bachelor were as charming a figure as Lyman lays out, he would be similarly in demand.
What follows is the first chapter of A Bachelor's Cupboard. You can read the rest for free here.
________________________________________________________________________
Being a bachelor is easy. Staying a bachelor-ah! there's the hitch! But that's another story. Yes, it's easy to be a bachelor, but to be a thoroughbred, unless it is inbred and the single man is "to the manner born," is more difficult. It requires unlimited time, patience, and education as well as a store of myriad bits of information on a multitude of subjects.
The "correct" bachelor must not only know how, but he must know why. He must be a woman's man and a man's man, an all-round "good fellow." He must "fit" everywhere and adapt himself to all sorts of society under all sorts of circumstances. Good breeding and kindliness of heart are the essentials. These, above everything, he must have; and given them, the other attributes may be easily acquired by study and observation.
Any man may be a bachelor—most men are at some time in their lives. The day of the "dude" has passed and the weakling is relegated to his rightful sphere in short order. But to the bachelor the world looks for its enjoyment and inspiration and gayety. Upon him, as a matter of course, fall many burdens. These, if he knows how to bear them, are speedily transformed into blessings and counted as privileges.
Have not some of the world's greatest men enjoyed lives of single-blessedness? Have not some of its greatest bon-vivants, epicures, artists, musicians, and writers led the solitary life from preference rather than necessity?
"I am a bachelor," says one gallant, "because I love all womankind so well I cannot discriminate in favor of the one."
Bachelors are the most charming of entertainers. What woman ever refuses an opportunity to chaperon at a bachelor dinner or studio tea? What débutante does not feel secretly ecstatic at the very idea of looking behind the scenes and peeping into the corners of some famous bachelor ménage? And who, indeed, can be a more perfect host than a bachelor? He can be
Comments
0 comments