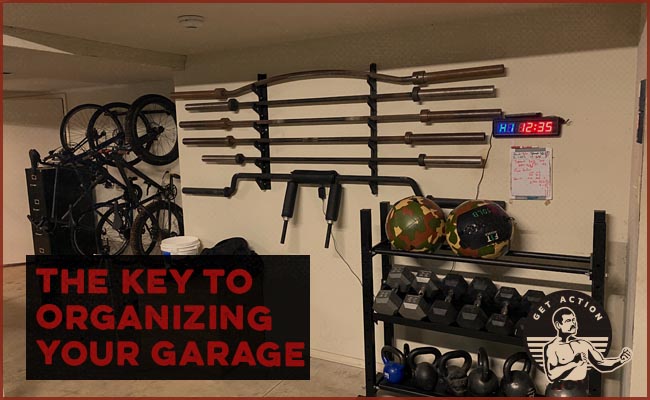 Garages can be unruly places. If you're like me, you kinda treat it like the junk drawer of your entire house. Stuff slowly makes its way there, and then stays there. To get to something you want, you have to claw your way through a pile of other stuff. 
I had made an effort at organizing my garage five years ago, which had certainly helped tame the chaos. But over time, things started to devolve. Not only were my general household tools and things getting harder to find and access, but the area of the garage dedicated to our home gym began to feel more cluttered and disordered. I had acquired more pieces of equipment and failed to incorporate them and set up the area in a way that felt clean and inviting. 
The central issue wasn't having too much stuff; I'm not a hoarder. Though I did need to get rid of some things, most of the stuff I kept in the garage was stuff I used and wanted to keep. What I really needed was a better way to organize it.
The Biggest Key to Organizing Your Garage: Get Your Stuff Off the Floor
I follow Coop over at Garage Gym Reviews, and one thing he hits on over and over again when it comes to organizing your garage gym is: "Get your crap off the floor." 
This is an admonition that applies as readily to garage gyms as to any kind of garage and every area of a garage. 
The best way to get things off the floor, is to put them on your walls. Walls are underutilized areas for storage. When you hang things up on the wall, you free up floor space in your garage and make the area feel less cluttered. It also makes getting to stuff easier. Instead of reaching over things to get what you need, you walk up to the wall where the item has been hung and take it off. 
I recently used Coop's advice to rework not just my garage gym but my garage as a whole, and it's been a game-changer. The place looks great, I've opened up floor space, and things are easier to access. Getting your stuff off the floor really is the biggest key in organizing your garage.
How to Get Stuff Off the Floor and Up on the Walls
Below I'll show you before and after pics of some areas of the garage I organized using the get-your-stuff-off-the-floor principle and offer tips on how you can do likewise.
Racks
Racks provided me the most significant ROI in freeing up floor space. There are racks for all sorts of things.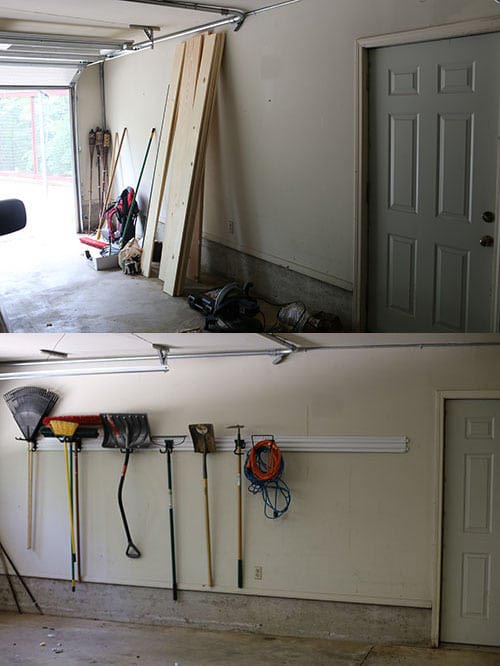 Getting a rack on which to hang things like shovels, rakes, brooms, and hoes is something I did during my previous reorganizing effort several years back. This time around I extended the idea to other clutter-creating items, like our bikes.
Comments
0 comments