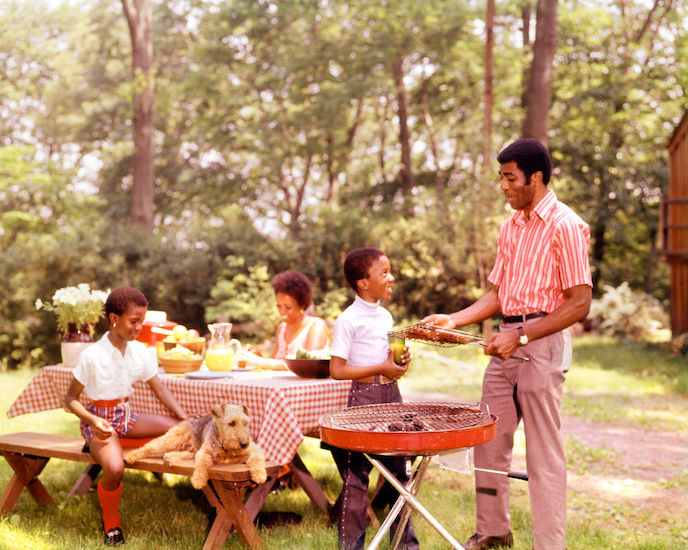 The summer months are here, and with them, a change in mood, expectations, and itineraries. If you (and your family — you only get 18 summers with your kids, after all!) want to make the most of the season's unique possibilities for fun and memory-making, below we offer a list of the many summer-related resources we've published over the years. Hopefully they'll inspire you to throw a backyard party, swing in a hammock, take a hike, read a book on the beach, and generally enjoy the heck out of the sun-filled, laid-back days ahead.
What to Wear
When the weather warms up, a new set of clothes in your wardrobe gets put into rotation. It's harder to dress stylishly in the summer than it is in the colder, layer-friendly months, but you don't have to (only) default to t-shirts and shorts. The articles below will acquaint you with alternatives that look sharper, yet still keep you cool, and even offer some tips on how wear that t-shirt better when you do opt for it.
Read these style guides to specific sartorial pieces:
The GuayaberaThe Classic Camp Collar ShirtThe Polo ShirtThe T-ShirtKhakisThe Seersucker SuitBoat ShoesMohinders (My #1 recommendation for summer shoes!)My Go-to Sunglasses for Summer
And check out these overview articles as well:
A Man's Guide to Summer Dress: Part I and Part IIEasy Ways to Upgrade Your Casual Summer StyleSummer Style: How to Dress for an Outdoor Social Event
What to Do
Warm weather, school vacation, and holidays like the Fourth open up new possibilities for recreation, relaxation, travel, and general mischief. If you're looking for ideas on how to while away your summer days, or just want to better execute your excursions and adventures, consult the list below:
18 Things Every Man Should Do This Summer23 Dangerous Things You Should Let Your Kids DoThe Ultimate Guide to Fireworks10 Awesome 4th of July Traditions How to Make a PVC BlowgunHow to Make a PVC Archery BowHow to Make a Marshmallow ShooterHow to Make a Potato CannonHow to Build a Man-Sized Slip-'n-SlideBackpacking BasicsThe Complete Guide to Hiking (And Enjoying It)Podcast #711: How to Plan the Ultimate Road Trip39 Things to Do Before Leaving on Vacation: A Handy Dandy ChecklistThe Complete Guide to Flying With Babies and Toddlers (While Avoiding a Defcon 1 Meltdown)5 Ways to Streamline Your Next Camping Trip
What to Cook
In the summertime, you're less inclined to heat up the house by turning on the oven, and more inclined to take your cooking outdoors. When you're firing up the grill, you'll want to consult these articles, podcasts, and videos to become a master backyard chef:
The Science of GrillingPodcast #612: Grillmaster Secrets for Flame-Cooked PerfectionPodcast #720: The Secrets to Making the Perfect BurgerThe 3-Zone FireHow to Light a Charcoal GrillHow to Grill Perfect Chicken BreastsHow to Grill the Perfect BurgerHow to Grill the Perfect SteakHow to Make Your Own BBQ SauceHow to Make Your Own BBQ Spice RubsSmoking Meat 1013 Easy Marinades for Your 3 Favorite Meats
Also be sure to check out these fun tips for leveling up your next backyard BBQ:
The Best Way to Hold a Burger (According to Science!)The Best Order to Stack Your Burger ToppingsThe Best Way to Ice Drinks in a Cooler
What to Read
You often have more time to read during the summer, and you may be wondering what book to pack for your upcoming trip. Any of the recommendations on our many book lists could fit the bill, but as people are often looking for something lighter (with action, excitement, and a compelling-but-not-too-complicated plot) or travel/adventure-related for their vacation reads, the lists below may be particularly apropos:
The 50 Best Adventure Books (Non-Fiction) The 50 Best Adventure Books (Fiction)The 5 Best James Bond BooksThe 5 Best Hardboiled Detective Novels5 Must-Read Travel Books by Authors Famous for Their Fiction21 Western Novels Every Man Should Read
The post The Art of Manliness' Ultimate Guide to Summer appeared first on The Art of Manliness.
Comments
0 comments