In the modern age, people are bombarded with more information, and are more personally responsible for managing that information, than ever before. How do you stay on top of your schedule, work responsibilities, financial obligations, and the spigot of media that runs full force 24/7 while not only avoiding becoming overwhelmed, but actually using all that information to generate better ideas, advance your career, and generally improve your life?
My guest would say that the answer lies in having a mind outside your mind. His name is Tiago Forte and he's the author of Building a Second Brain: A Proven Method to Organize Your Digital Life and Unlock Your Creative Potential. Today on the show, Tiago explains how a Second Brain is an external resource where you can store all of the most valuable checklists, thoughts, notes, ideas, and insights you acquire and generate. He explains how the Second Brain supercharges the historical practice of keeping a commonplace book, and how it improves your productivity and well-being by getting stuff out of your head, off your bandwidth, and into a place where you can actually put it to use. Tiago then walks us through this system of "Personal Knowledge Management," including the tools you can use to capture information, the question to ask yourself to decide what to capture, and why he recommends organizing what you capture around action instead of subject. And Tiago explains how the ultimate goal of having a Second Brain is to take what you put into this treasury and synthesize it into better ways to live, think, act, and express yourself.
Resources Related to the Podcast
Commonplace booksAoM Article: The Man Book — Creating a Reservoir of Timeless WisdomTiago's YouTube series on choosing a digital notes appDigital note-taking apps mentioned in the show:>EvernoteNotionObsidian Google KeepMicrosoft OneNotePocket — an article-saving appTiago's blog post on his "PARA" organization system
Connect With Tiago Forte
Tiago's Website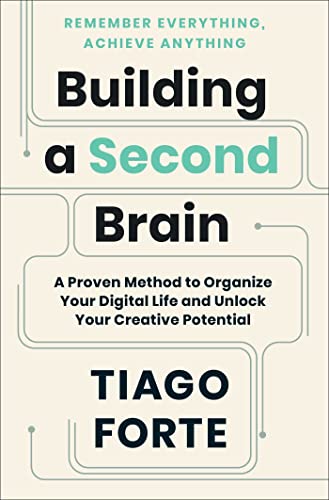 Listen to the Podcast! (And don't forget to leave us a review!)



Listen to the episode on a separate page.
Download this episode.
Subscribe to the podcast in the media player of your choice.
Listen ad-free on Stitcher Premium; get a free month when you use code "manliness" at checkout.
Podcast Sponsors
Click here to see a full list of our podcast sponsors.
Transcript Coming Soon
The post Podcast #816: Building a Second Brain appeared first on The Art of Manliness.
Comments
0 comments