In Finland, children don't start formal schooling until age seven, aren't subject to standardized testing, and always get at least one hour of physical activity a day, broken into 15-minute free-play breaks every hour, which take place outside no matter the weather. Finnish parents and teachers espouse mantras like, "Let children be children," "The children must play," and "The work of a child is to play." Yet despite this emphasis on play, Finnish students still achieve enviable academic outcomes, and grow up to become some of the happiest adults on earth.
My guest today says that the Finnish model of education and parenting, with its heavy emphasis on play, is worth replicating in other countries. His name is Pasi Sahlberg and he's a Finnish educator and researcher currently living in Australia, as well as the co-author, along with William Doyle, of the book Let the Children Play: How More Play Will Save Our Schools and Help Children Thrive. Pasi begins our conversation by sharing what the data says as to how much less kids are playing today than they did in the past, and the factors that have led to this decrease both at school and at home. We discuss the fact that even the play kids do now engage in is more structured and adult-directed, even sometimes involving something called a "recess coach," and how this has led to the sad phenomenon of children who no longer know how to play on their own. We then discuss what is lost when kids don't play enough, from a decline in physical and mental confidence to a decrease in creativity. We end our conversation with the elements of healthy play that educators and parents who want to revive it can look to incorporate in their children's lives.
Resources Related to the Podcast
AoM Podcast #300: How to Raise Free-Range KidsAoM Podcast #532: How to Create a Neighborhood Where Kids Play OutsideAoM Podcast #599: The Science of Physical IntelligenceAoM Podcast #320: The ADHD ExplosionAoM series on the causes and solutions to overprotective parentingSunday Fireside: Is It Safer to Be Cautious Than Brave?Sunday Fireside: The Secure Base Philosophy of ParentingThe LEGO Foundation's research on the state of children's play
Connect with Pasi
Pasi's Website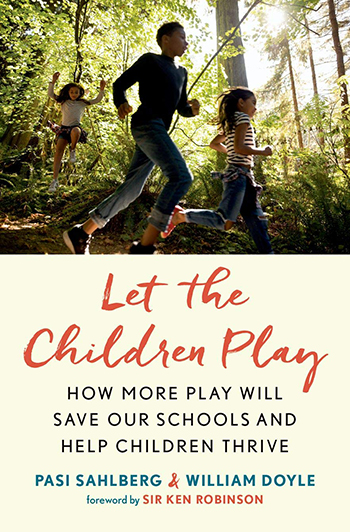 Listen to the Podcast! (And don't forget to leave us a review!)
Listen to the episode on a separate page.
Download this episode.
Subscribe to the podcast in the media player of your choice.
Listen ad-free on Stitcher Premium; get a free month when you use code "manliness" at checkout.
Podcast Sponsors
Click here to see a full list of our podcast sponsors.
Transcript Coming Soon!
The post Podcast #749: Let the Children Play! appeared first on The Art of Manliness.
Comments
0 comments