When you think of your assets, you probably think of your money. But you also have three other hugely important assets at your disposal too: your time, energy, and priorities. When you manage these assets poorly, you can feel overwhelmed and scattered and yet unproductive and unfulfilled. When you manage them well, things in your personal and professional life click, and you experience traction and satisfaction.
How do you avoid the first situation and achieve the second? My guest today, Carey Nieuwhof, provides answers in his book At Your Best: How to Get Time, Priorities, and Energy Working in Your Favor. We begin our conversation with Carey's story of achieving success, only to suffer burnout, and how burnout has become less of a job problem these days than a general life problem. We then talk about how to leave what Carey calls the "stress spiral" and get into the "thrive cycle." We discuss the two mental shifts you need to make to better manage your time, how to keep other people (and yourself) from hijacking your priorities, the power of categorical decision-making in separating the good from the best, and why you need to put even your personal commitments on your calendar. We also talk about scheduling your daily tasks into what Carey calls your green, yellow, and red energy zones, and how to spend your time more strategically.
Resources Related to the Podcast
AoM Podcast #369: The Scientific Secrets of Perfect Timing With Daniel PinkAoM Podcast #450: How to Make Time for What Really Matters Every DayAoM Article: Create a Weekly Attack PlanAoM Article: How to Say No Without Sounding Like a Jerk
Connect With Carey Nieuwhof
Carey's WebsiteAt Your Best Book Info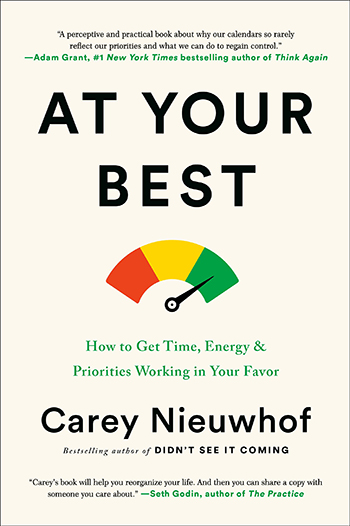 Listen to the Podcast! (And don't forget to leave us a review!)
Listen to the episode on a separate page.
Download this episode.
Subscribe to the podcast in the media player of your choice.
Listen ad-free on Stitcher Premium; get a free month when you use code "manliness" at checkout.
Podcast Sponsors
Click here to see a full list of our podcast sponsors.
Transcript Coming Soon!
The post Podcast #743: How to Get Time, Priorities, and Energy Working in Your Favor appeared first on The Art of Manliness.
Comments
0 comments