If you have any interest in World War II, then you've surely seen one of the most arresting photographs to come out of that conflict. In it, members of the 101st Airborne Division can be seen sporting mohawks and applying war paint to each other's faces right before they're set to parachute into Normandy. The idea for that pre-battle ritual came from Jake McNiece, part Choctaw Indian and the section sergeant of the Army's notorious "Filthy Thirteen" demolition unit, who had already proved himself a highly unorthodox leader long before the countdown to D-Day.
Today on the show, Richard Killblane shares the story of Jake McNiece and the Filthy Thirteen with us. Richard is the author of two books about the unit — The Filthy Thirteen and War Paint — and is himself a veteran of the Army's Special Forces who served at every level in the military from private soldier to company commander, and ended his career as the Command Historian for the U.S. Army Transportation Corps. Richard describes how you could already see the kind of hell-raising-but-effective leader McNiece would become during his youth in Oklahoma, and why McNiece chose to become a paratrooper. Richard then talks about all the trouble McNiece got into during boot camp, how he ended up leading a section of fellow renegades, and why his superior officers kept him around despite his pattern of engaging in deliberate disobedience. Richard then explains what was going on with the Filthy Thirteen's pre-Normandy Invasion mohawks and war paint, and what McNiece and his men did on D-Day and during the rest of the war. Richard explains why it was that McNiece got promoted, despite never changing his rebellious ways, and we end our conversation with his surprising transformation after the war.
Resources/People/Articles Mentioned in the Podcast
Richard Killiblane's Wikipedia pageKilliblane's convoy case studies on Korea and Vietnam and Iraq and Afghanistan506th Infantry RegimentJake McNieceThe Filthy ThirteenHank HannaJack WomerRobert SinkCamp Toccoa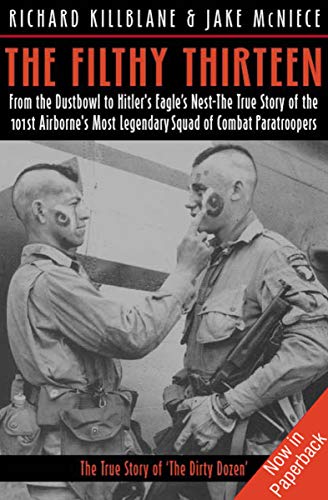 Connect with Richard Killblane
Richard's LinkedIn Page
Listen to the Podcast! (And don't forget to leave us a review!)
Listen to the episode on a separate page.
Download this episode.
Subscribe to the podcast in the media player of your choice.
Listen ad-free on Stitcher Premium; get a free month when you use code "manliness" at checkout.
Podcast Sponsors
Click here to see a full list of our podcast sponsors.
Transcript Coming Soon!
The post Podcast #730: The Hell-Raising Leader of WWII's Filthy Thirteen appeared first on The Art of Manliness.
Comments
0 comments