The Lexus RX set the tone and instantly became a benchmark for the luxury crossover segment when it was first introduced in 1998. Since then, the Lexus RX has carried the torch for being a reliable staple in the industry that sets a trend for the luxury automotive market and has now received its biggest update in just over 20 years.
The new 2023 Lexus RX embodies the retained principles of Lexus in a methodical approach to the redesign to avoid upsetting its massive following. However, Lexus has been rather trendy with bold designs that mostly start with their signature grille, which has resculpted the traditional hourglass spindle design. The new grille design approach now features a body-colored nose cone area where the mesh effect flows from it and expands downward. The LED headlight cues return with a slight retouch but remain recognizable for Lexus. The bodywork is more cohesive and has a new sporty flavor where it looks like it flows down to the lower body somewhat like painted body skirts would. The rear end features an LED lightbar following the new design language of other Lexus vehicles new featuring the Lexus lettering in place of what would have been the Lexus "L" badge. There are even new 21-inch wheels fitted to the upper trim level of the new Lexus RX, a new RX 500h F Sport Performance model, which is one of four new trim levels.
See Also: 2022 Lexus RX 450h Hybrid Review & Test Drive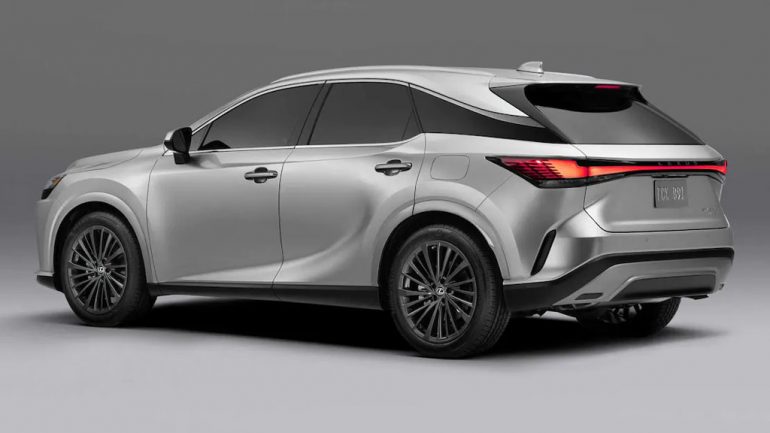 The new 2023 Lexus RX does away with the V6 engine and replaces it with variations of 4-cylinder engines. Overall, the new RX is lighter than the outgoing model by as much as 198 pounds and has new larger dimensions such as a 2.36-inch longer wheelbase but has shorter overhangs. The new trim levels for the 2023 RX start with the RX 350 getting a 2.4-liter turbocharged 4-cylinder good for 275 horsepower and 317 lb-ft of torque sent through an 8-speed automatic transmission. The setup will get 24 mpg combined and get the RX 350 up to 60 mph in about 7.5 seconds for the front-wheel-drive model and 7.2 seconds for the all-wheel-drive model.
Read More
—————-
By: Malcolm Hogan
Title: New Car Preview: 2023 Lexus RX
Sourced From: www.automotiveaddicts.com/78391/new-car-preview-2023-lexus-rx
Published Date: Wed, 01 Jun 2022 14:27:47 +0000
Did you miss our previous article…
https://www.mansbrand.com/no-reserve-e-type-lots-on-offer-at-cca-summer-sale/
Comments
0 comments