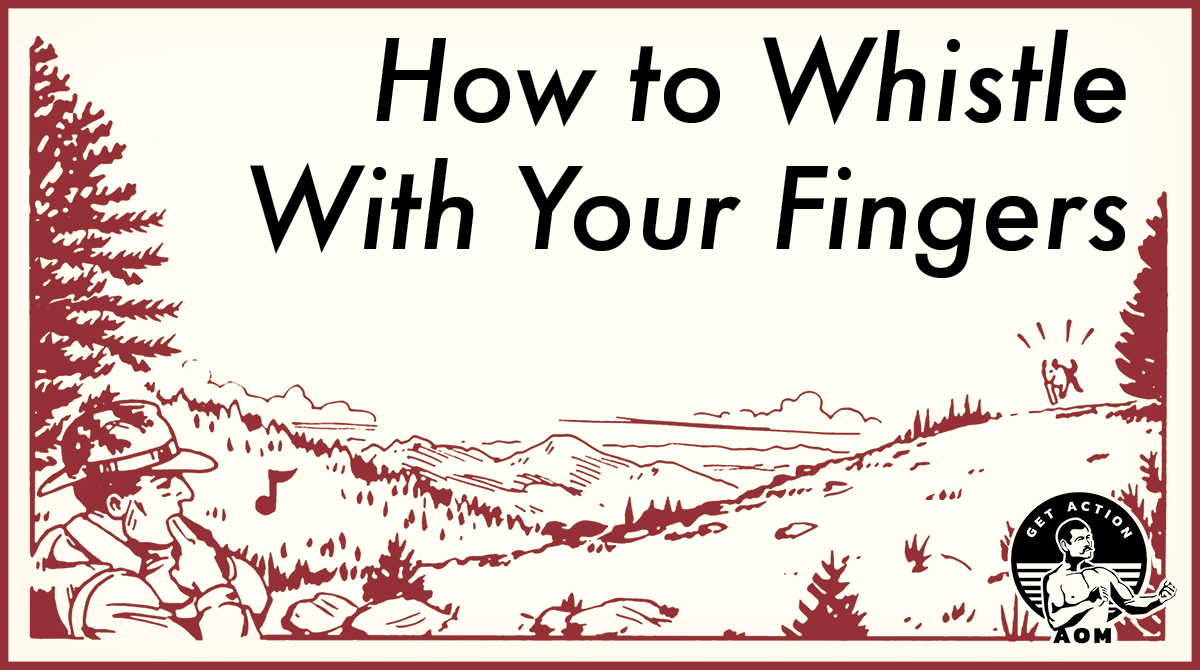 Ever since I was a kid, I've wanted to know how to give a commanding whistle with my fingers in my mouth. You know. The kind you see people give in old movies when they're hailing a taxi or trying to get the peanut guy's attention at the ballpark. It just seemed like a cool skill to have. But alas, I've spent my entire young and adult life frustrated that I couldn't uncover the secret to this age old trick.
Many of you out there reading undoubtedly feel the same way. Believe it or not, covering how to whistle with your fingers has been one of our most requested articles. Most of the emailers shared how they had a grandpa or dad who knew how to give a loud, forceful whistle with their fingers (in my case, my mom was the master of this kind of whistle). Like me, they thought it was a cool skill, but one which unfortunately hadn't been passed onto them.
So I finally made it a goal to once and for all figure out how to whistle with my fingers, so that I could create an AoM tutorial on the subject. After just forty minutes of annoying my wife with intense practice, I finally mastered the skill that had eluded me since I was eight years old. Achievement unlocked!
Below, I show how you too can whistle with your fingers.
Watch the Video
1. Choose Your Finger Combination
Your fingers do two things that allow you to create an ear-piercingly loud whistle. First, they keep your tongue pushed back, and second, they keep your lips tucked back over your teeth. The pushed back tongue and tucked lips will create a bevel which will produce a tone when you blow.
There are a myriad of finger combinations you can use to get the desired effect. I'm going to show you my two favorites.
Two-Handed, Middle/Index Finger Combo
Extend your middle and index fingers on both hands, keeping them close together, while your thumbs hold down your ring and pinky fingers.
Place your two middle fingers together, forming an "A" shape. 
I feel like I get a louder and more forceful whistle using this finger combo.
One-Handed, "OK" Sign 
This combo allows you to whistle with just one hand. All you need to do is form an "OK" sign with either your thumb and index finger or thumb and middle finger.
2. Wet and Tuck Your Lips Back Over Your Teeth
Lip placement is key. Give your lips a quick lick to wet your whistle. Tuck your lips back over your teeth. It's what you do when you pretend you're an old man without any teeth. Your lips need to cover your teeth in order to whistle successfully. Feel free to adjust how much or little you tuck your lips back. It's
Comments
0 comments