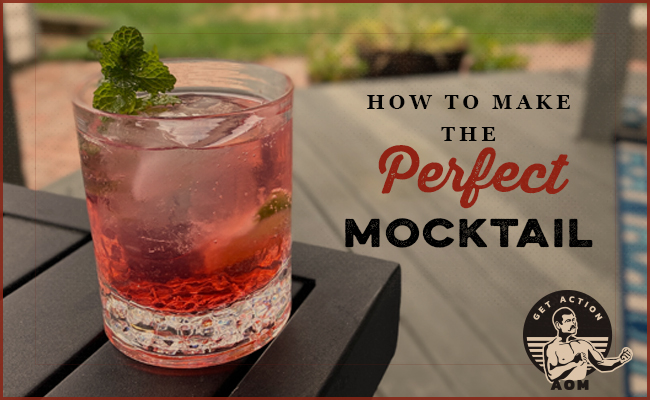 Even before the pandemic shuttered restaurants and bars, Americans — particularly Millennials and Gen Zers — were drinking less alcohol than in decades past. Whether you cite health factors, cost, changing social norms, or any other reason, the fact remains that booze doesn't have the same cultural sway it once did. Bars and beverage makers are recognizing this and providing all kinds of new choices in the way of delicious mocktails and other very drinkable non-alcoholic options. Teetotalers are having their day in the sun! 
At home, though, it doesn't seem as common to whip up a mocktail as to just grab a soda out of the fridge. This is likely because the end result of DIY mocktail mixology often doesn't seem worth the effort. A non-alcoholic drink is indeed a tough thing to get just right and can turn out a little lackluster. Since cocktails get much of their flavor from spirits, how do you replicate it — or at least the feel and feeling of it — without that foundation? 
In the last few months I've done extensive experimenting at home in order to make a better mocktail for my wife, who is pregnant with our third child. We've long enjoyed having an evening cocktail after the kids are in bed, but with her first two pregnancies, I admittedly didn't try real hard to supply a substitute for these nightcaps, offering her a fancy soda instead. But this time around, with a little more cocktail knowledge in my back pocket, I figured I'd try a little harder to take things up a notch. And through trial, error, and tweaking, I've hit upon the perfect recipe. 
The key to its success is using the same standard "formula" that cocktails are built with: a base flavor (in a cocktail that's the liquor), a modifier/mixer that builds on the foundation, and a garnish or final flourish. 
With a strong and flavor-packed base, a well-sourced mixer or two, and a garnish, you can create a mocktail that captures the balance of flavors, the mouthfeel, and even the aesthetic of a true cocktail. 
How to Make the Perfect Mocktail
Prep
The first key to creating the perfect mocktail is treating its preparation and presentation just as you would any other cocktail. Measure the ingredients, use a fancy oversized ice cube, and serve the drink in a quality cocktail glass. Don't just carelessly throw ingredients together into a plastic cup. The care taken in the creation and look of a mocktail contributes mightily to its enjoyment. If you approach it like you would any other cocktail, you're primed to enjoy the experience all the more.  
Ingredients
As with any recipe, food or drink, it all starts with quality ingredients. Let's look at the three components of the perfect mocktail. 

My new favorite syrup is raspberry-mint. Boil 1 cup of sugar in 1 cup of water. Add 1 cup of raspberries and simmer for 5 minutes, using a potato masher to smoosh the raspberries. Remove from heat, add 4-5 mint sprigs, and let it steep for at least 30 minutes. Strain into a mason jar and enjoy!
Base: simple syrup. Rather than starting with a spirit, we're using a flavored syrup as
Comments
0 comments