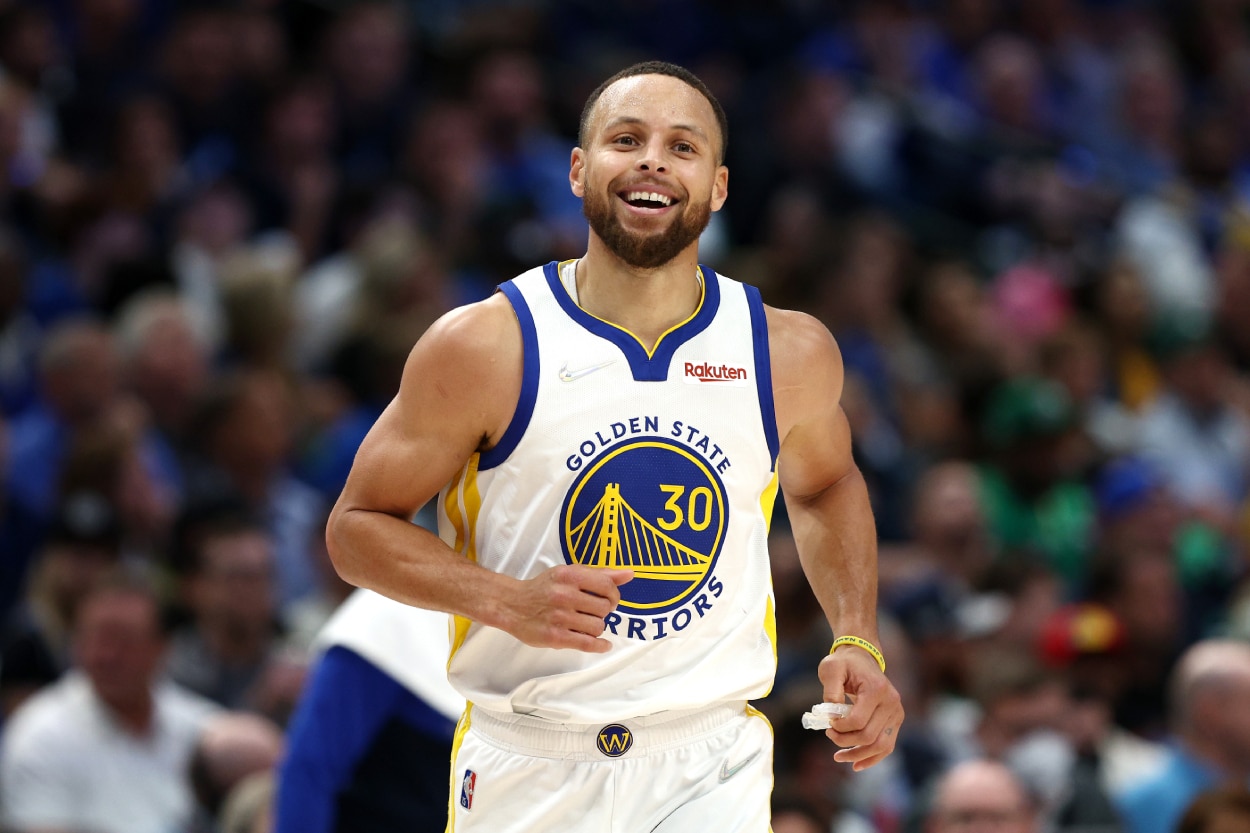 Stephen Curry has been the face of the Golden State Warriors dynasty. He has helped lead the Dubs to six NBA Finals appearances and three championships, solidifying his status as one of the greatest players ever in the process.
So, has Curry ever won NBA Finals MVP? Here's a look at the Warriors' three title runs and who won Finals MVP during each of those years.
Stephen Curry has never won NBA Finals MVP
Believe it or not, despite winning back-to-back league MVP awards in 2015 and 2016, Stephen Curry has never won Finals MVP.
Andre Iguodala received the award during Golden State's first championship run in 2015, and he was the most controversial of the team's winners. Iguodala won it primarily because of his defense on LeBron James. The Warriors beat James and the Cleveland Cavaliers in six games, but LeBron averaged 35.8 points, 13.3 rebounds, and 8.8 assists.
Kevin Durant received it during the Warriors' two other championships. Golden State beat the Cavs 4-1 in 2017 and 4-0 in 2018.
Here's a look at the average numbers Iguodala and Durant posted each year, and how they compared to Curry's.
2015 NBA Finals
| | |
| --- | --- |
| Andre Iguodala (Finals MVP) | 16.3 points, 5.8 rebounds, and 4.0 assists |
| Stephen Curry | 26.0 points, 5.2 rebounds, and 6.3 assists |
2017 NBA Finals
| | |
| --- | --- |
| Kevin Durant (Finals MVP) | 35.2 points, 8.2 rebounds, and 5.4 assists |
| Stephen Curry | 26.8 points, 8.0 rebounds, and 9.4 assists |
2018 NBA Finals
| | |
| --- | --- |
| Kevin Durant (Finals MVP) | 28.8 points, 10.8 rebounds, and 7.5 assists |
| Stephen Curry | 27.5 points, 6.0 rebounds, and 6.8 assists |
Curry certainly had a case in 2015, and he had great stats in 2017 and 2018. But Kevin Durant clearly deserved the award in the latter two series.
Stephen Curry has still recorded great Finals numbers
Just because he hasn't won a Finals MVP doesn't mean Stephen Curry has been trash during the Warriors' title runs.
As highlighted above, he has recorded excellent numbers during the championship round.
That has even been the case in losses. According to StatMuse, prior to the 2022 NBA Finals, Curry has recorded 26.5 points, 6.2 assists, and 5.7 boards per contest in 28 total Finals games.
His best performance came during a Game 3 loss to the Toronto Raptors in 2019, when he dropped 47 points, eight rebounds, and seven assists. He also made 6-of-14 three-point attempts.
Stephen Curry may not have a Finals MVP just yet, but he has had some legendary performances during the Warriors' dynasty run. He is an all-time great player.
Stats courtesy of Basketball Reference
RELATED: Stephen Curry Admits He Was a Little Insecure When He First Started Playing With Kevin Durant: 'You're Gonna Look Like Some Idiots'
The post Golden State Warriors: Has Stephen Curry Ever Won NBA Finals MVP? appeared first on Sportscasting | Pure Sports.
———————–
By: David Wysong
Title: Golden State Warriors: Has Stephen Curry Ever Won NBA Finals MVP?
Sourced From: www.sportscasting.com/golden-state-warriors-has-stephen-curry-won-nba-finals-mvp/
Published Date: Tue, 31 May 2022 15:21:31 +0000
Read More
Did you miss our previous article…
https://www.mansbrand.com/jamie-lee-curtis-officiates-daughter-rubys-wedding-to-partner-kynthia-in-cosplay-themed-backyard-ceremony/
Comments
0 comments