Denny Hamlin stood in the infield at Los Angeles Memorial Coliseum watching the NASCAR Cup Series' second last-chance qualifying race as a car owner in a driver's suit.
When he competed in the earlier Clash at the Coliseum qualifier, the 17-year veteran was fine.
Just another day at the office.
But as a minority partner of 23XI Racing, he anxiously watched both of his investments turn hard-edged laps at the quarter-mile track.
The three-time Daytona 500 titleholder wasn't fine. Not at all.
Denny Hamlin stood in LA Coliseum infield acting like 'backseat driver' 
As part owner, Hamlin looked tense in LA on Feb. 6.
"I'm nervous," he told Fox Sports during the race. "I'm way more nervous than when I'm driving it. When I'm driving it, I can control what I want to do. When you're watching, you're out of control.
"I'm trying to backseat drive."
With co-owner Michael Jordan, Hamlin's team went 1-for-2. Bubba Wallace, who has a lot to prove to Jordan this season, made the Clash main event, but Busch failed.
To further frustrate Hamlin, the executive, Wallace was a non-factor during the highly-rated Clash at the Coliseum.
As a driver for Joe Gibbs Racing, Hamlin has yet to find his Next Gen groove.
During the Gen-6 era, Hamlin captured three Harley J. Earl Trophies.
Should Hamlin be worried?
Considering how strong Hendrick Motorsports looked during the single-car qualifying session at Daytona International Speedway on Feb. 16, should the entire industry be concerned? Hendrick earned four of the top five spots.
Defending series champion Kyle Larson (181.159 mph) earned the pole, and he'll be joined by teammate Alex Bowman (181.046) on the outside of the front row.
Hamlin placed eighth at 179.723. He's still the odds-on favorite to win "The Great American Race" on Feb. 20, according to Odds Shark.
Hamlin: 'I just think I have a good understanding of the air here and how it moves around the walls'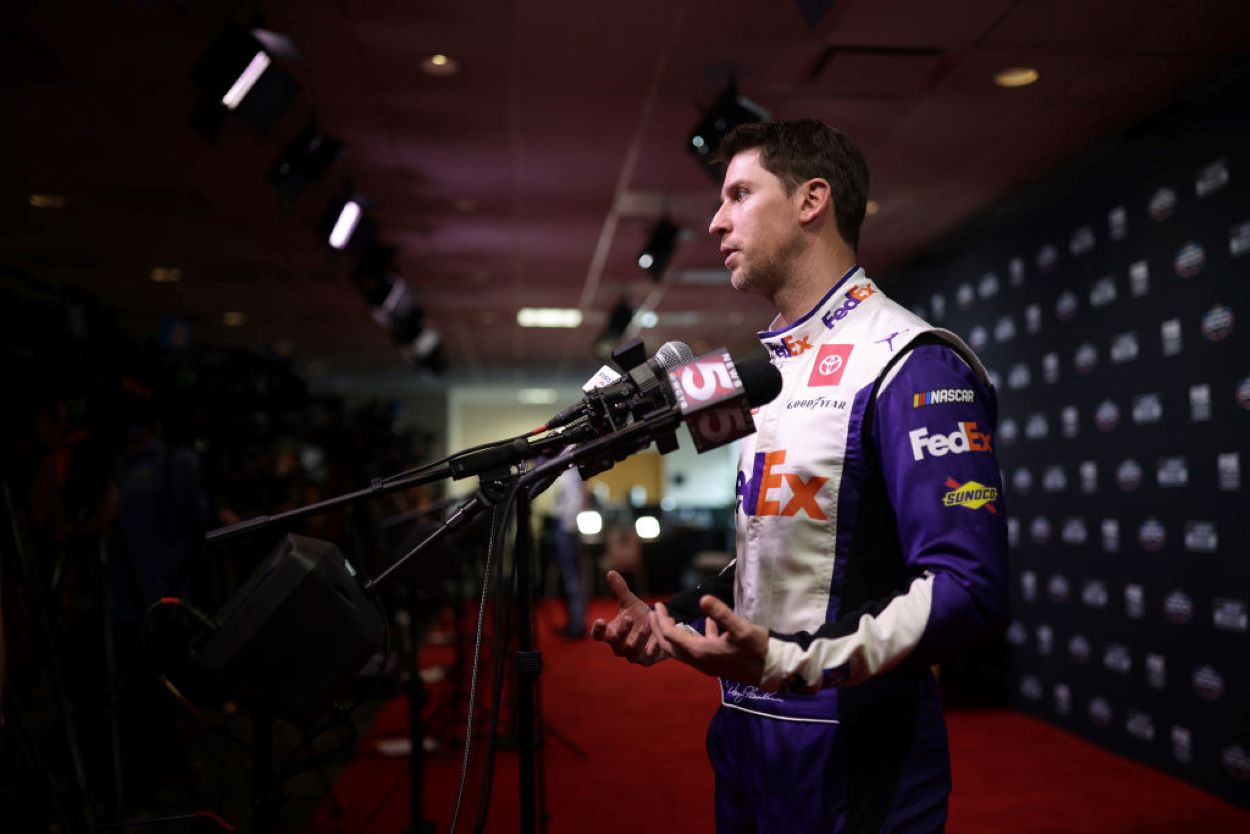 With three Daytona 500 titles over the past six years (2016, 2019, 2020), Hamlin is among the all-time greats at the 2.5-mile superspeedway. Moving out of the Gen-6 cars and into Next Gen machines, will Hamlin maintain his Daytona touch?
Over the past four Daytona 500s, Hamlin has only placed in the top five each outing. But compared to Hendrick Motorsports, Hamlin looked slow as a driver – and an owner.
Wallace (179.297) placed 16th in qualifying, and Busch (178.98) was 25th.
Speaking at NASCAR's Media Day on Feb. 16, Hamlin described his Daytona advantage over the past decade.
"I just think I have a good understanding of the air here and how it moves around the walls," he said, reported by motorsport.com. "… Here, there is just something about – whatever it is – the banking or the width of the track, height of the walls or something that I just kind of know where those little pockets of air are it seems like that are a little bit better."
Hamlin still searching for Next Gen car groove 
With the Next Gen models, NASCAR officials intended to introduce driver parity back into stock car racing. Hendrick Motorsports' qualifying dominance aside, most insiders anticipate additional mid-level drivers will challenge more lead-lap positions in 2022. 
As teams tested the Next Gen cars over the past few years, Hamlin has viewed the sessions as a driver and an owner.
"We have a new car now and it's going to move around a little bit different and we will probably be learning just like everyone else will be this weekend," Hamlin said. "I don't know that the advantage really will be as big as what it was in the past."
If an advantage can be found, look for Hamlin to exploit it somehow. Someway.
Vegas is betting on it.
Like Sportscasting on Facebook. Follow us on Twitter @sportscasting19. 
RELATED: Michael McDowell Enters Daytona 500 Defense With Rookie Crew Chief, 'Hope' 
The post Does Denny Hamlin Still Have the Daytona 500 Touch? appeared first on Sportscasting | Pure Sports.
———————–
By: Jeff Hawkins
Title: Does Denny Hamlin Still Have the Daytona 500 Touch?
Sourced From: www.sportscasting.com/does-denny-hamlin-still-have-the-daytona-500-touch/
Published Date: Thu, 17 Feb 2022 05:25:27 +0000
Read More
Did you miss our previous article…
https://www.mansbrand.com/cynthia-erivo-talks-channeling-essence-playing-a-genius-at-work-in-genius-aretha/
Comments
0 comments