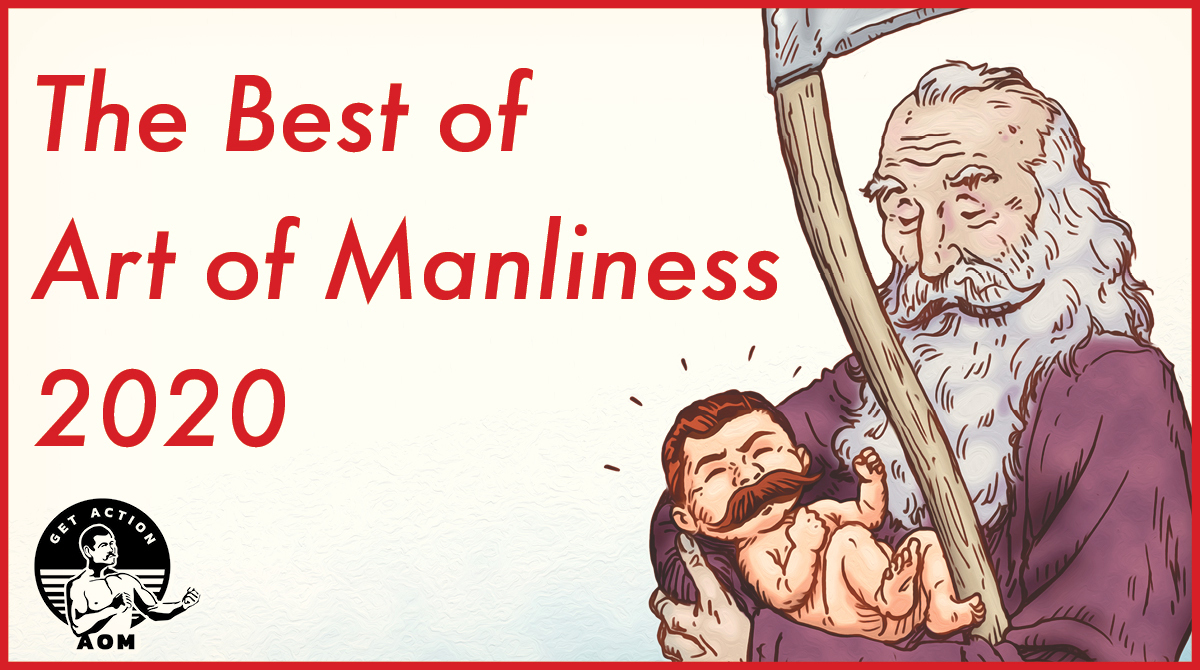 The next person who uses the word "unprecedented" and says something like, "Man, 2020 was such a crazy year," ought to be hit in the head with a frying pan.
But man, it was a crazy a year, wasn't it?
Despite all the goings-on of 2020, here at AoM we kept doing exactly what we've been doing since 2008, which is creating totally free, high-quality, evergreen content that aims to inform, entertain, and inspire. We published hundreds of new articles and podcast episodes this year, and below we highlight that which proved most popular with the masses, as well as the content that was nearest and dearest to our own hearts. Plus, we offer an update on the action-arm of AoM: The Strenuous Life.
rticles
Most Popular Articles of the Year Based on Traffic
16 Ways to Be a Better Man in the New Year3 Simple Steps to Stopping Negative Self-TalkThe AoM Guide to Staying at Home (Without Being Bored Out of Your Mind)How to Make Cheesy Bacon Rolls20 Not (That) Lame Knock-Knock JokesWhy I Stopped Journaling9 Civil War Battles Every Man Should KnowCar Camping Is the Worst9 Lifesaving Mnemonics Every Man Should KnowBro Basics: How to Do a Bicep CurlThe 3 Reasons Friendships EndGeneral Eisenhower's 5-Star Holiday Eggnog
Our Personal Picks
(Some of the most popular above would be included in this list as well):
Why Men Love the Story of the Great EscapeStop Procrastinating Today With Behavioral Science30+ Tricks, Games, and Stunts to Entertain Your Kids on Long, Dark Winter NightsThe Self-Care Routines of 5 American Presidents10 (Non-Religious) Books to Get Into the Devotional Reading HabitJames Bond StoicismA Lesson From TR & Taft on Pursuing a Life You LikeWhy You Should Become a Sun WorshipperFinding an Existential Second Wind3 Lessons From Homer's Odyssey
Sunday Firesides Favorites
Not Everything Is PoliticalBlessed Are the RestlessPractice Patience With Inarticulate UtterancesThe Weight of Worthy WorkExercise, Man's Most Faithful CompanionPlausibility is Pegged to a PersonEmbracing the Coin of CharacterGnaw Your BoneYour Routine Needs Rites of PassageThe Surprising Thinness of the Competitive CrowdYours Sincerely
Podcast
Most Popular Podcasts of the Year Based on Listens
Why People Do (or Don't) Listen to YouThe Tiny Habits That Change EverythingBeing a Man in the Lousy Modern WorldHow to Activate Your Brain's Happy ChemicalsThe 7 Habits of Highly Effective PeopleA Guide for the Journey to Your True CallingThe Code of the WarriorWhy You Should Learn the Lost Art of RhetoricHow to Develop Greater Self-AwarenessSimple, Excuse-Busting Advice for Getting in ShapeWhy You Don't Change (But How You Still Can)How Childhood Shapes Adulthood
Our Personal Picks 
What Happened When Two Friends Left Their Jobs to Build a Cabin TogetherThe Causes and Cures of Childhood AnxietyHow Eisenhower Led — A Conversation with Ike's GranddaughterWhat Driving Tells Us About Agency, Skill, and FreedomGet Out of Your Mind and Into Your LifeHow to Avoid Falling in Love With the Wrong PersonHow to Get Jailhouse StrongInflammation, Saunas, and the New Science of DepressionJack London's Literary CodeHow to Simplify Your Life and Get Off the GridBegin the New Year By Reflecting on These 3 Life-Changing Questions
If you haven't already, be sure