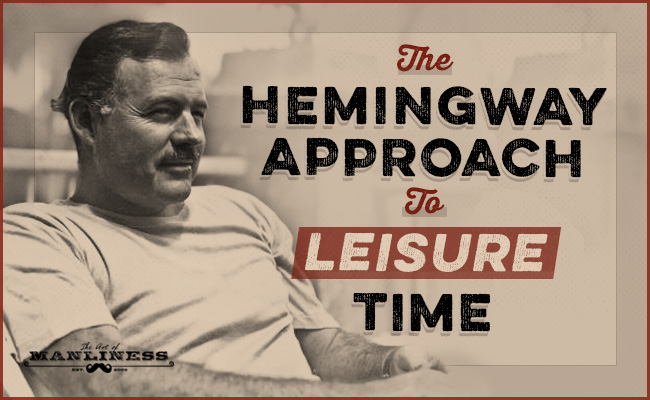 With our archives now 3,500+ articles deep, we've decided to republish a classic piece each Sunday to help our newer readers discover some of the best, evergreen gems from the past. This article was originally published in July 2018.
When Ernest Hemingway was working on the manuscript of a book about his safari in Africa, he played with a passage (which he later deleted) that listed all the things he loved and loved to do. He began with seeing, hearing, eating, drinking, sleeping, and reading; looking at pictures, cities, oceans, fishes, and fighting; thinking and observing; being in boats and battles or on saddle horses with "guns between your legs."
The list continued down the page:
To watch the snow, rain, grass, tents, winds, changes of season . . . To talk, to come back and see your children, one woman, another woman, various women, but only one woman really, some friends, speed, animals . . . courage, co-ordination, the migration of fishes, many rivers, fishing, forests, fields, all birds that fly, dogs, roads, all good writing, all good painting, the principles of revolution, the practice of revolution, the Christian theory of anarchy, the seasonal variation of the Gulf Stream, its monthly variation, the trade winds, counter currents, the Spanish bull ring, cafes, wines, the Prado, Pamplona, Navarra, Santiago de Compostella, Sheridan, Casper, Wyoming, Michigan, Florida, Arkansas, Montana.
Still not feeling he had encapsulated the things of life that filled his heart, he made another attempt:
To stay in places and to leave, to trust, to distrust, to no longer believe and believe again, to care about fishes, the different winds, the changes of the seasons, to see what happens, to be out in boats, to sit in the saddle, to watch the snow come, to watch it go, to hear rain on the tent, to know where I can find what I want.
In reference to the above, Hemingway's biographer, Carlos Baker, comments: "What he really wanted was a total immersion in the sensuous experience of living. The lists were nothing more than verbal talismans to help him achieve such an end."
Hemingway had a zeal for making the most of life, not only in his professional vocation, but in his leisure time as well. Papa always wanted to be where the action was, not just as a spectator but as a participant; he wanted to experience what the world had to offer firsthand, with all five senses. In this he certainly succeeded, becoming not only a war correspondent and writer of classic novels, but a hunter, fisherman, sailor, amateur boxer and bullfighter, and world traveler. Few others in modern history have seen, heard, smelled, tasted, and touched so much.
How'd he do it all?
As discussed previously, it was a strict daily writing routine that kept up his output of words.
What may be surprising to learn about Hemingway's life, however, is that the same disciplined approach he took to his job, was what allowed him to have so much fun outside of it.
Hemingway's Approach to the "Challenge of Enjoyment"
I suppose the most remarkable thing about Ernest is that he has found time to do the things most men only dream about. He has had the courage, the initiative, the time, the
Comments
0 comments