The UNESCO-listed Great Aletsch Glacier in the Swiss Alps is an astonishing sight. An enormous corridor of ice banked by rocky slopes mossed with green and rusty-leaved shrubs, pine and spruce trees, and clusters of colourful wildflowers. It's hard to come up with fresh superlatives for such an awesome display of nature. Put simply, the Great Aletsch Glacier is phenomenal.
The Aletsch Glacier's numbers are equally impressive. At 20km in length and with a surface area of 79 sq km, it's the longest ice stream and largest glacier in the Alps. At its thickest, the ice is 800m deep and the glacier weighs about 10 billion tonnes. If it were to melt, it could supply every person on Earth with a litre of water every day for three-and-a-half years.
There are, of course, almost limitless ways to explore the glacier via the region's extensive network of hiking trails. But here are six alternative ways to make the most of the immense icefield and appreciate its majesty from every angle.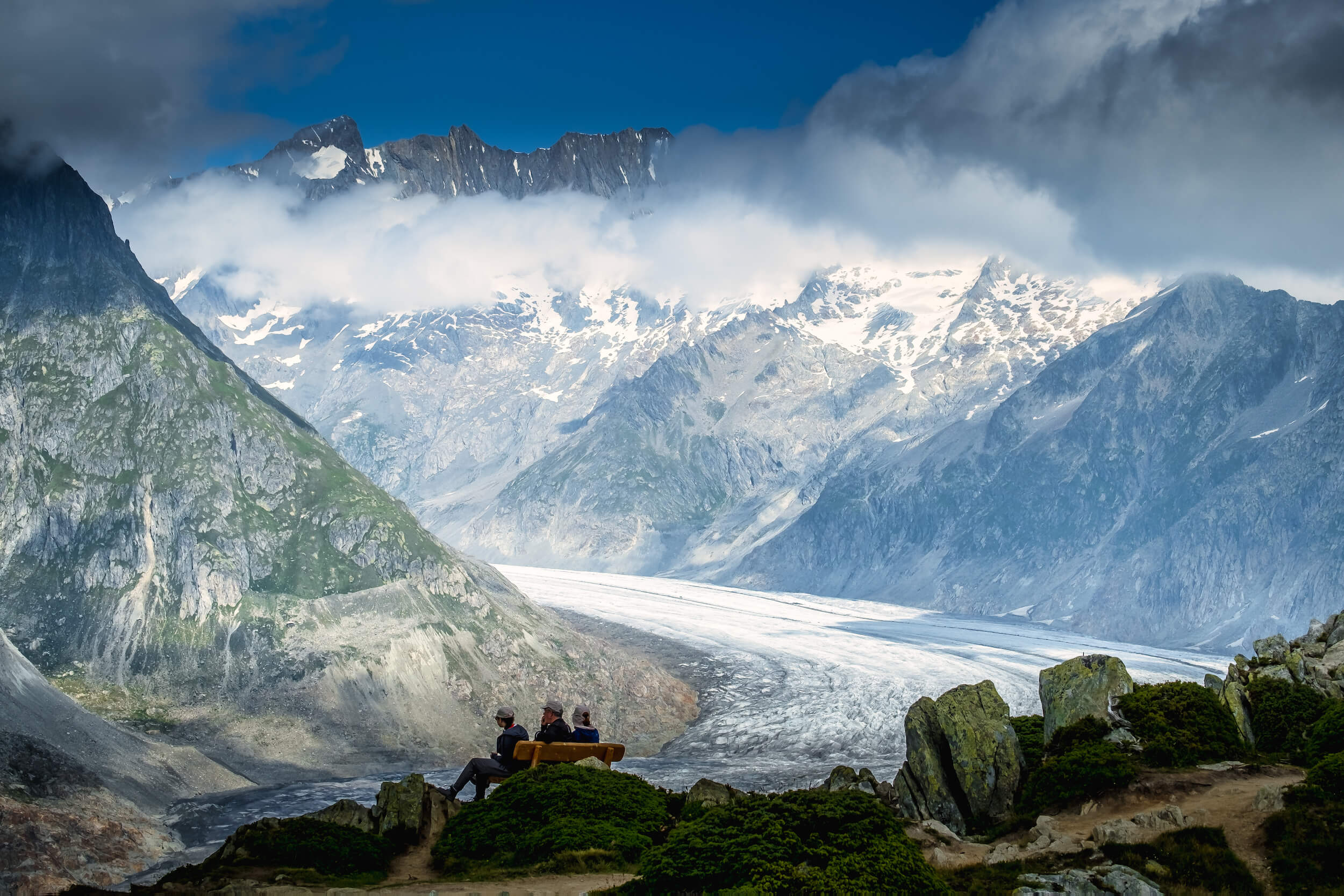 (c) Aletsch Arena – Peter Watson
1. Viewpoint tour
Aletsch Arena's signature experience is a tour of four official viewpoints strung along the glacier. Eggishorn, which at 2,869m is the highest of the viewpoints, is on the route of the national tourism board's Grand Tour of Switzerland – a 1,600km circuit of the country's most celebrated sights, complete with an official Grand Tour sign to frame your Insta-worthy photo.
From Eggishorn, it's possible to see 40 of Switzerland's 48 4,000m peaks, including Eiger, Mönch, Jungfrau, and Matterhorn. The glorious tour then continues alongside the frozen highway to viewpoints at Bettmerhorn, Moosfluh, and Hohfluh. Each one providing another breathtaking perspective of this magnificent natural wonder.
2. Glacier trekking 
In many parts of the world, terrains like those found in the Aletsch Arena would be only accessible to hardened mountaineers. But this being Switzerland, nature has been harnessed safely and securely, meaning you can trek right over the top of the deeply crevassed ice.
Tours can be completed as a full-day hike (which starts and ends in Fiescheralp), or as a two-day trek from the Jungfraujoch across the glacier to the Konkordia hut. Here, trekkers spend the night before watching the sunrise and continuing to Lake Märjelen and then Fiescheralp.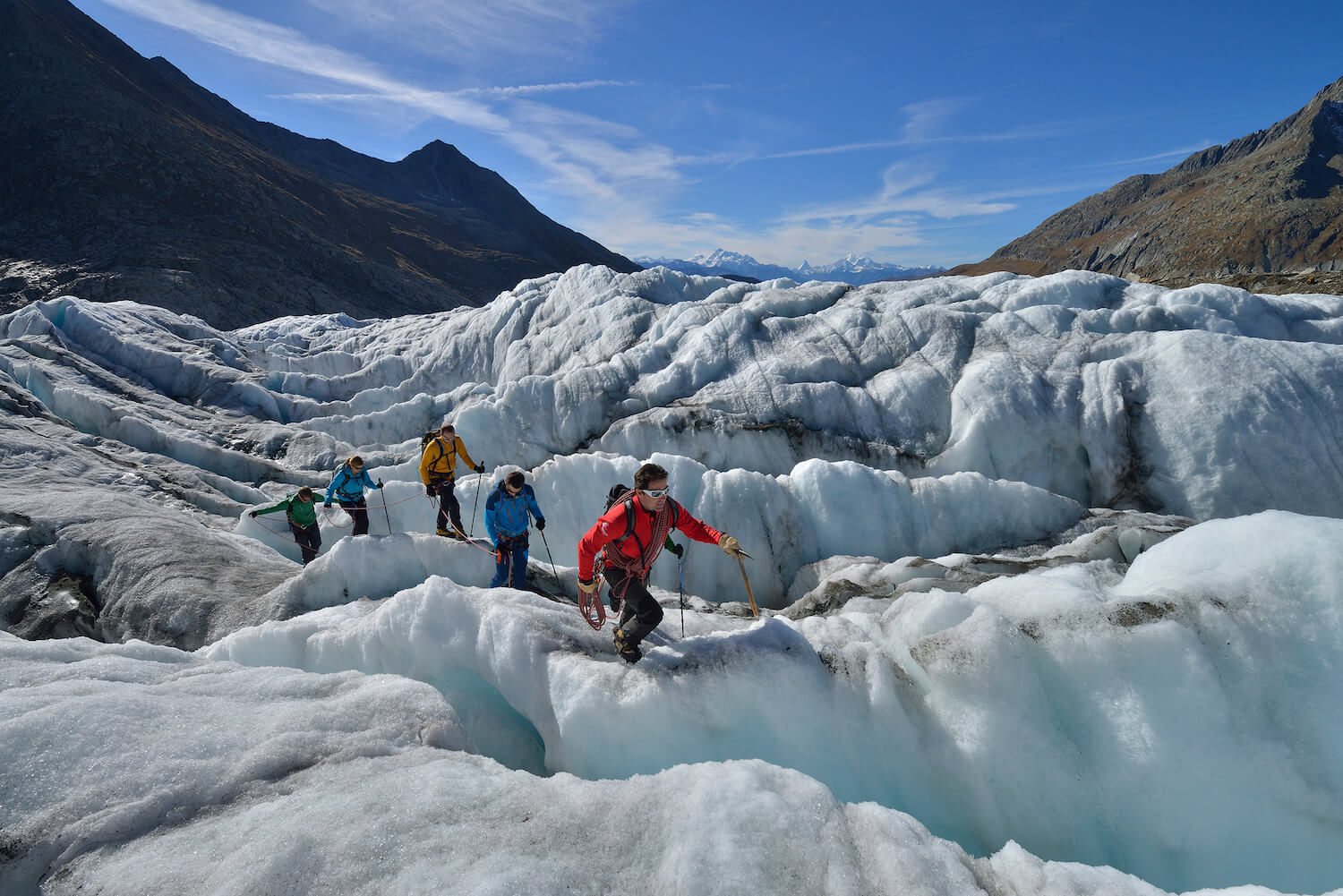 (c) Aletsch Arena – Christian Perrett
3. Ice caving
Natural ice caves form in the Great Aletsch Glacier due to geothermal heat (or spring thaw). As you can imagine, this produces electrifying results. 
Due to the shifting nature of the glacier, the ice caves can only be explored from the outside as part of a guided hike from the Moosfluh viewpoint. 
4. Paragliding 
It really is something
Did you miss our previous article…
https://www.mansbrand.com/5-of-the-best-uk-kayaking-routes/
Comments
0 comments