Scotland is famed for its spectacular coastlines, stunning landscapes, and beautiful lochs – all of which make it the perfect location for hikers. Whether it's a day's walking or a trip that lasts a couple of weeks, adventurers from far and wide flock to sample the best hikes in Scotland.
But there's a problem: the midges. These pesky, flying insects have been the bane of many an adventure in Scotland between April and September (especially July and August). Months that just happen to be the ideal time to hike the Scottish Highlands.

So, we've teamed up with leading outdoor retailer Trekitt to guarantee a bite-free break with their new Royal Robbins Bug Barrier collection. Trekitt specialises in offering quality gear for all your hiking adventures, as well as top-notch advice and product reviews on their popular YouTube Channel.
Inspired by the Royal Robbins Bug Barrier collection, we've got together with Trekitt to compile a list of five fantastic Scottish hikes you can still try during peak 'midge season'. It's an eclectic mix of routes to enjoy bug-free, provided you go well prepared!
Find out more about the collection at the end of your guide. First, though, let's take a look at those five stunning Scottish hikes to try this summer.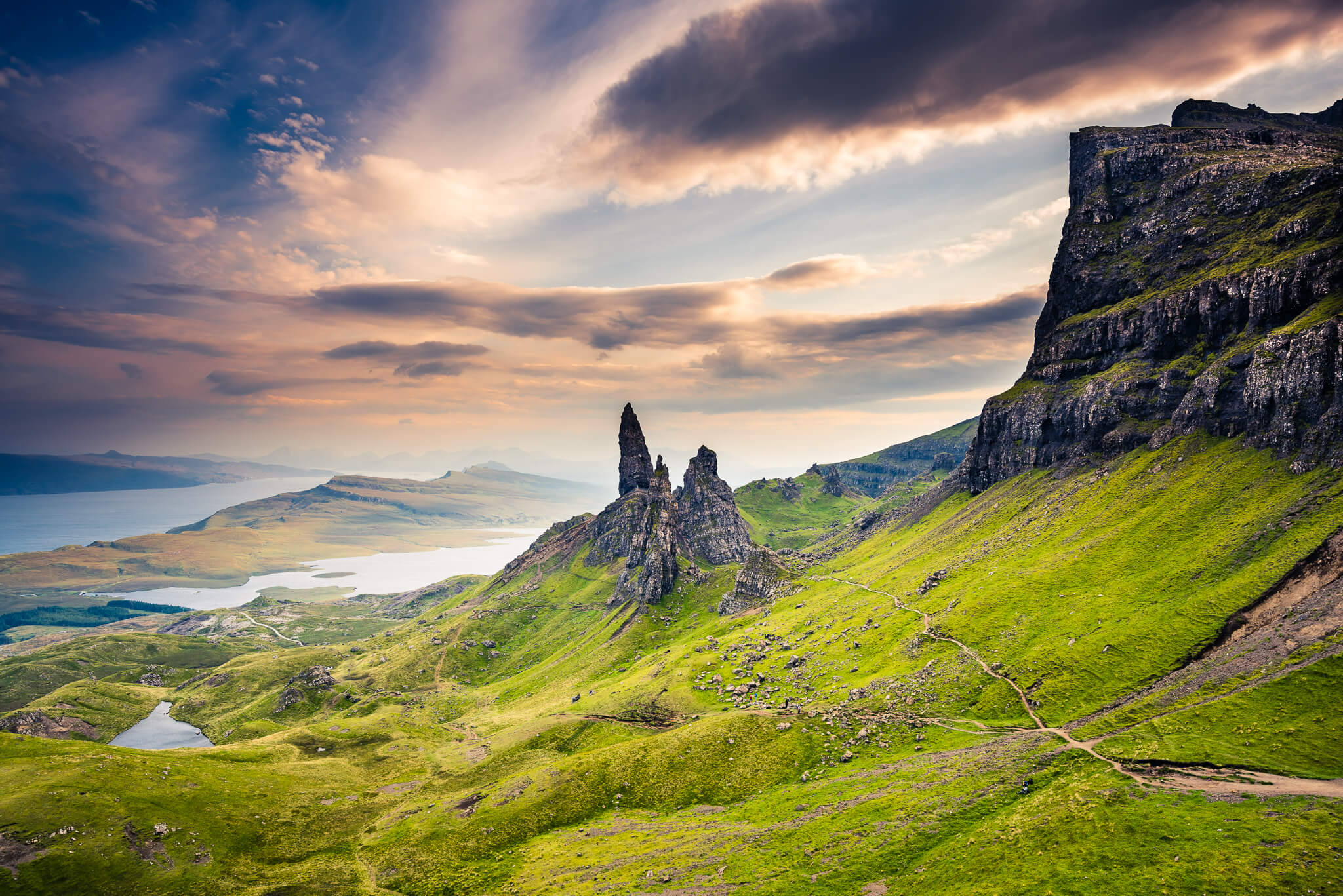 1. Old Man of Storr, Isle of Skye
Distance: 4.5 miles
Time: 1.5-2 hours
On the Isle of Skye, you'll find one of the best hikes in all of Scotland. It's one of the easiest on our list too, taking around 2 hours to finish and offering up some of the most spectacular views anywhere in Britain.
There's an obvious path to the top and the bottom that's used by hikers and day-trippers alike. Just be careful with a few sections of loose rock along the way.
2. Achmelvich Beach and Alltan'abradhan
Distance: 3.75 miles
Time: 1.5-2 hours
One of the best coastal hikes in Scotland, this route starts at Achmelvich Beach car park and winds around the bay. Along the way, you'll see the ruins of an old grain mill thought to have been carved from the 731m peak of Suilven and have a look at Europe's smallest castle, Hermit's Castle.
Hiking the 3.75 miles of this trail also brings you into contact with a diverse variety of wildlife, including seals, basking sharks, otters, and ospreys. You might even spot a white-tailed eagle.
Be ready with your camera as well, because the views along this legendary stretch of Scottish sand are something you'll want to remember.
https://www.mansbrand.com/crs-25-mission/
Comments
0 comments