With our archives now 3,500+ articles deep, we've decided to republish a classic piece each Sunday to help our newer readers discover some of the best, evergreen gems from the past. This article was originally published in January 2011.
Altoids have been freshening bad breath since the turn of the 19th century. But while they are touted as "Curiously Strong Mints," perhaps the real curiosity is not the allure of the mints themselves, but the popularity of turning the tin in which they're packaged into all sorts of truly handy, and just plain fun, creations.
The draw of the transformed Altoids tin, like the draw one feels towards, say, a secret book safe, is hard to put your finger on. Part of it is the satisfying challenge of fitting as much as possible into a small space. Part of it is the delight of being able to carry something cool in your pocket. Of course much of the appeal can be found in the enjoyment of tinkering and working on a DIY project. There is also the satisfaction that comes from reusing an ordinary object for something else entirely. Grandpa's old motto of "use it up, wear it out, make it do, or do without" still resonates.
Any way you slice it, beholding the creative uses for an Altoids tin simply brings a smile to your face. So we searched high and low and put together this list of 21 manly ways to reuse one. You can make some of these things for yourself, or use the list for cheap and unique gift ideas.
First Aid Kit
You never know when a minor emergency will strike, so it's best to have a first aid kit on hand at all times. You can find a thorough write-up on how to build a full-on, well-stocked kit here, but this Altoids tin version is nicely portable and small enough to sock away nearly anywhere — a pocket, a backpack, your car — wherever.
Full instructions here.
Electronics Lab

Photo and tin by Nick Ames
For tinkering on the go. According to its creator, Nick Ames, this tin "contains nearly everything to work on small projects, such as a breadboard, components (including several ICs), and an adjustable power supply. The power supply is a simple LM317 circuit, with the 317's metal tab cut off to make it fit."
See here for another view of the kit and the details of its contents.
Char Cloth Maker

Photo
When you're making fire the traditional way, such as with flint and steel, you want to make sure to catch your hard-earned spark in something that will turn it into a real fire. What you need is an easily combustible piece of tinder. Enter char cloth. It's easy to make — just put strips of cotton fabric in an Altoids tin, close the lid tightly, make a hole in the tin, and place it in a fire to "cook."
Full instructions here.
Pocket Games Chest

Photo by airship
We've all been unexpectedly stuck somewhere — say the airport or inside a tent on a rained-out camping trip — and found ourselves bored out of our minds. Sure, you could zone out from your companions and play Rolling Sky on your iPad, but why not get everyone involved in a good old fashioned game instead? For analog gaming on the go, stash an Altoids games chest in your bag.
For details of this tin's contents, see here.
Travel Cocktail Kit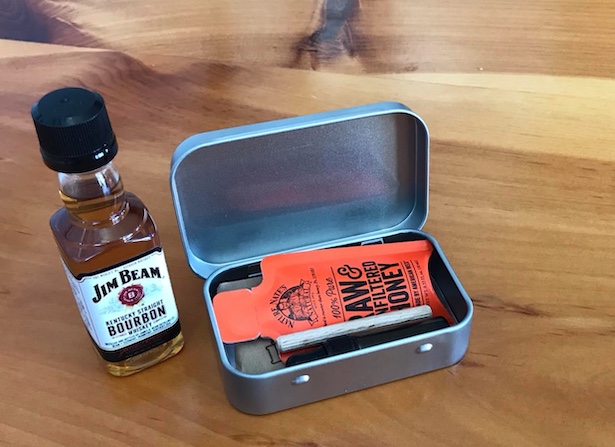 Need something to take the edge off when flying the not-so-friendly skies? Pack a cocktail kit in your
Comments
0 comments