I often get a kick out of driving something new that not many people have seen. Naturally, driving such a vehicle warrants many head turns, questions at the fuel pump, and an overall good feeling when the "new" vehicle feels like a really good product. That feeling is something that I enjoyed this week in the 2022 Genesis G70, a compact luxury sports sedan that's been refreshed through a rather comprehensive update that goes the distance to help elevate the Genesis luxury brand.
For the 2022 model year, the Genesis G70 receives an update to change the front and rear along with some interior upgrades to now feature a new 10.25-inch infotainment touchscreen and some added premium touches throughout. These changes, while significant, are mostly cosmetic and only functional for the interior's updated infotainment system that touts Apple CarPlay and Android Auto integration and a more cohesive interface.
Where things remain the same, which isn't a bad thing at all, is the powertrain where the Genesis G70 still offers a potent 3.3-liter twin-turbo V6 engine with 365 horsepower and 376 lb-ft of torque that can be coupled with an all-wheel-drive system or stick with the fun rear-wheel-drive setup. The other engine choice, which also includes a 2.0-liter turbocharged 4-cylinder for the base trim level, remains.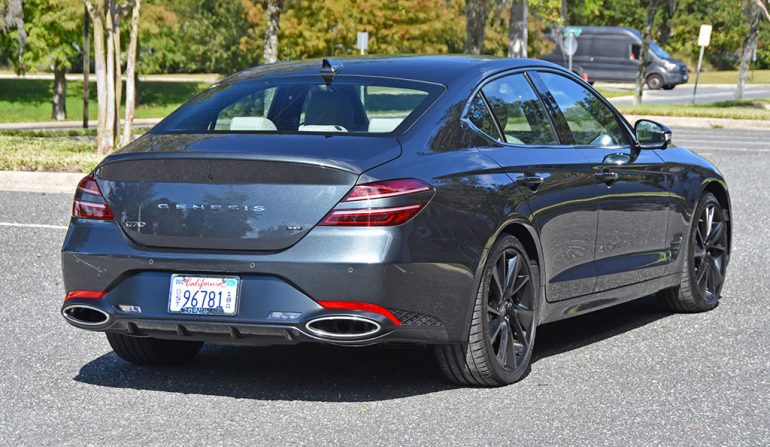 Fuel consumption for the twin-turbo V6 in the rear-wheel-drive flavor is a slight disappointment for such a small vehicle at the EPA estimates of 18 mpg city, 27 mpg highway, and 21 mpg combined.
Read More
—————-
By: Malcolm Hogan
Title: 2022 Genesis G70 3.3T Sport Prestige Review & Test Drive
Sourced From: www.automotiveaddicts.com/75207/2022-genesis-g70-3-3t-sport-prestige-review-test-drive
Published Date: Wed, 27 Oct 2021 12:59:25 +0000
Did you miss our previous article…
https://www.mansbrand.com/new-car-preview-2022-land-rover-range-rover/
Comments
0 comments