Once in a while, I'm exceptionally appreciative of getting a vehicle in for review that brings back the feeling of more analog sports cars of the past with this week's tester being a newly redesigned 2 Series Coupe in the 230i base trim but packing some tasteful looks and M Sport goodies.
Many would argue that some BMW vehicles have lost their way whether it be the controversial styling of the elongated front grille belonging to the new 4 Series, M3, and M4, or claiming to have diluted the brand with front-wheel drive-based additions from the X1 and X2 small crossovers to the 2 Series Gran Coupe. Having driven many new BMWs I would never go as far as to say BMW has lost their way and having the redesigned 2022 BMW 230i Coupe further brings home the idea that BMW is still in the game of providing driver-focused luxury sports machines that can still be affordable and fun. The proportions, updated styling, and a welcomed modernized touch to the updated kidney grille with its active shutters make the new 2 Series Coupe look good and fresh with a front-end look that won't cause any arguments – we hope you're listening, BMW!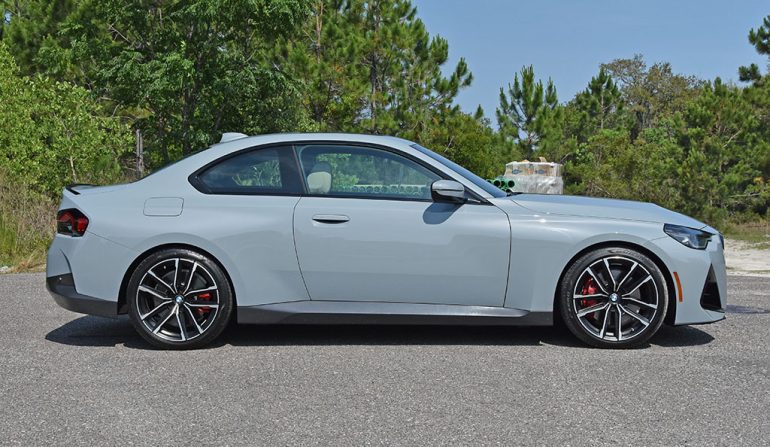 The new 2022 BMW 2 Series Coupe is redesigned for the model year where they will start with just two defined trim levels, the 230i Coupe and the M240i xDrive Coupe. The major differences in the two trims are the powertrains and the M240i xDrive being all-wheel-drive over the standard 230i's rear-wheel-drive setup. Having the 230i to dive into for the week has been an enjoyable experience, one that somewhat reminds me of my E46 2002 BMW M3. The size of vehicles overall has grown and BMW hasn't been shy about the size increases, which is what makes the 2 Series Coupe so enjoyable to get back to that smaller form that I remember in my E46 M3. Also, it is wise to note and respect that the 2 Series Coupes are completely different from the 2 Series Gran Coupe models as the 2 Series Coupe is a rear-wheel-drive platform, which we give a thankful nod to BMW for keeping the 2 RWD – the way God and enthusiasts intended.
Read More
—————-
By: Malcolm Hogan
Title: 2022 BMW 230i Coupe Review & Test Drive
Sourced From: www.automotiveaddicts.com/78248/2022-bmw-230i-coupe-review-test-drive
Published Date: Tue, 24 May 2022 12:22:06 +0000
Comments
0 comments