It's rather obvious that CUVs/SUVs (crossover utility vehicles/sports utility vehicles) are a dominating force in the American culture today. All you have to do is visit a local grocery store and look at the parking lot or down the street of a suburb and you'll see vehicles consist mostly of crossovers and trucks. Subaru has been one of the innovators of crossover utility vehicles but has retained the car-like appeal of such vehicles in the way they drive and are initially presented in their Sheetmetal. One vehicle from Subaru that has gained new attention is the Ascent, their surprising 3-row crossover that balances affordability and usability through a long list of available features.
For the 2021 model year, the Subaru Ascent remains mostly the same from its 2019 model year introduction only adding the steering-responsive LED headlights and a second and third-row seat-belt reminder as standard features. Otherwise, the Ascent brings a lot to the table for a three-row crossover and a new bundle of active safety features through Subaru's latest EyeSight suite of driver aids, which now includes adaptive cruise control and lane-keeping assist as part of the package.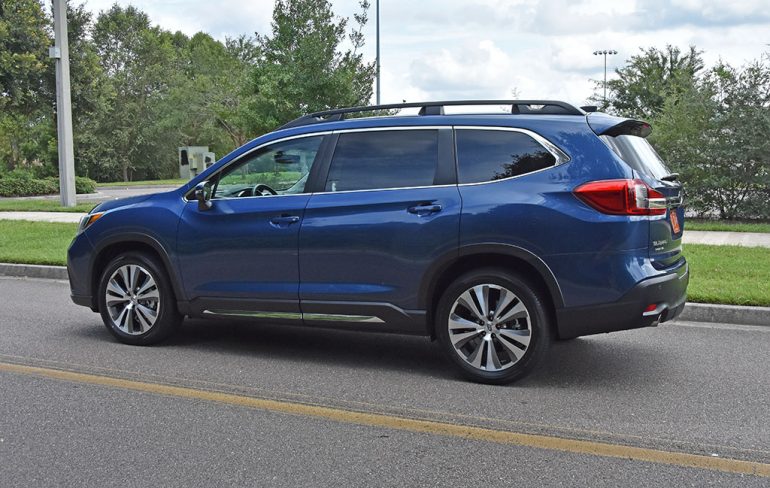 Powering the Subaru Ascent is left to one powertrain, a 2.4-liter turbocharged 4-cylinder boxer engine that gets mated to a CVT (Continuously Variable Transmission). The powertrain is decent for moving the Ascent along and its ability to hit 60 mph from a standstill in about 6.9 seconds. Here, the turbocharged engine is strong but is somewhat hindered by the CVT, which gives the drive an uneasy feeling with inconsistent power delivery. Basically, the power is lumpy due to the CVT where it attempts to often emulate a traditional automatic transmission that has gears with virtual gearing ratio drop-downs upon acceleration. The nearly endless ratio changes from the CVT force you to constantly modulate the throttle to keep a steady speed. Sometimes the lumpiness is frustrating, but you find ways to manage the power after you know what to expect. Overall, the Ascent rides good and plays on the idea of you piloting a much smaller vehicle than it is. Moreover, from the outside, the Ascent doesn't look as big as it is on the inside, which is a good thing to give passengers plentiful space.
Read More
—————-
By: Malcolm Hogan
Title: 2021 Subaru Ascent Limited Review & Test Drive
Sourced From: www.automotiveaddicts.com/74497/2021-subaru-ascent-limited-review-test-drive
Published Date: Thu, 09 Sep 2021 12:18:31 +0000
Comments
0 comments