With our archives now 3,500+ articles deep, we've decided to republish a classic piece each Friday to help our newer readers discover some of the best, evergreen gems from the past. This article was originally published in September 2015.
It's been fodder for many a heated debate among men for centuries.
What skills should every man know?
A vast amount of ink and e-ink has been spilled on the subject. But why?
Part of being a man is being competent and effective in the world. To do that, you've got to have skills. A man wants to know (or at least feel like he knows) that no matter what situation he's placed in, he'll be able to handle himself — to act rather than be acted upon. Hence our incessant drive to figure out what skills we'll need to know in order to demonstrate confidence and capability in our manly roles as procreators, protectors, and providers.
For primitive man, this needed skill-set was clear and relatively narrow, largely revolving around the jobs of fighting and hunting.
The breadth of skills needed today, however, is much wider. The modern man must be both a warrior and a diplomat, a woodsman and a scholar. We need both hard skills and soft skills; skills we use every day and skills we keep in the back pocket, just in case.
We've covered many of these skills over the years on the Art of Manliness, and so figured it was time to add our contribution to the collective cultural enterprise of figuring out which skills a well-rounded, grown man should have. Below you'll find the AoM list of 100 skills every man should know.
1. Tie a Necktie
Even in our casual culture where hoodies are appropriate attire for billionaire CEOs, every man should know how to tie a tie. Funerals, weddings, and job interviews are just a few occasions when a sharp necktie is appropriate, and you'll be attending plenty of those during your adult life. You don't want to be the 30-something who needs to ask his mom to tie his tie for him.
2. Build a Campfire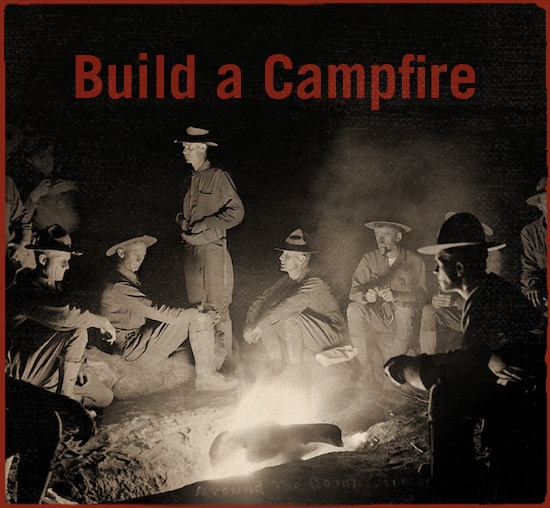 There's a primordial link between men and fire. While it's no longer necessary for our survival, man's connection to fire still exists. It's both exhilarating and calming, dangerous and assuring. There's nothing like sitting around a crackling fire under a starry sky while poking the embers with a stick and meditating on the big questions in life. Just for those reasons alone a man should know how to build a fire. But it's also vital to know so you can build a fire while camping in order to cook a solid meal for yourself and those with you. Using Duraflame logs is a cardinal sin that will automatically send you to outer darkness, where there is wailing and gnashing of teeth.
3. Hang a Picture
Being asked to hang a picture on the wall may be perhaps the world's most common "honey-do." While not necessarily an exact science, knowing some basics
Comments
0 comments