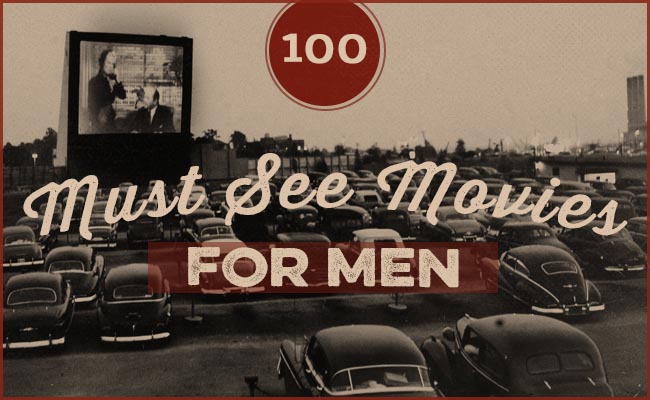 With our archives now 3,500+ articles deep, we've decided to republish a classic piece each Friday to help our newer readers discover some of the best, evergreen gems from the past. This article was originally published in July 2009.
For whatever reason (most likely the fact that viewing is easier than reading), films don't seem to garner the same kind of cultural respect as books do. Which is a shame because excellent movies can be just as entertaining, mind-expanding, and life-changing as good books. Scenes, characters, and quotes from the greatest movies stay with us long after we view them. 
And for better and for worse, film has had a huge impact on masculinity in the 20th century. Movies have produced archetypes of manliness that many men judge themselves against today. To view how male characters of cinema have been portrayed over the decades, is to see clearly the ways in which our perception of masculinity has changed and continues to change. Thus it seemed only proper that the Art of Manliness take a stab at creating a list of essential movies every man should see.
We didn't want to make a bro-y list, in which the movies were selected based on their amount of titillating sex and explosive violence. Nor did we want to create a high-brow list consisting solely of independent avant-garde movies that, while culturally or cinematically significant, aren't very entertaining. We wanted to create a well-rounded list of films that have something to say about manliness. Some of the movies speak poignantly about what it means to be a man. Others give examples of true manliness in action. Some are lessons in how not to be a man. And others are simply entertaining movies that are just plain virile. But the common thread that runs through all of them is that they're great movies that have stood the test of time.
Without further ado, we present AoM's 100 must-see movies for men.
The Great Escape
This group of Allied POWS fought the enemy the best way they could – by bustin' out of prison. Based on a true story, the film has been hailed as one the greatest escape movies of all time. Despite its length (172 minutes), the movie maintains interest through the engaging relationships of the prisoners. Each individual contributes their skills and personality to the effort, even the self-interested American (played by Steve McQueen). I guess his skill would be making killer motorcycle chase scenes.
Best line: "I'm going . . . out."
Butch Cassidy and the Sundance Kid
Based loosely on the real lives of Western outlaws Robert Leroy Parker (aka Butch Cassidy) and Harry
Comments
0 comments